#3: Electrical Console
Step #3: New Electrical Console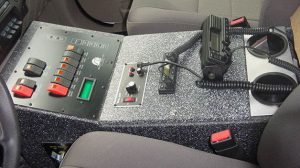 While the module is being painted, we prep the new chassis with a new front console and switch panel. This picture shows our standard Type I console (splatter paint finish). The electrical system from the main electrical distribution panel is completely re-worked. This process includes all new wiring harnesses to the console, plus …
● A floor-mounted console is installed between the cab bucket seats.
The console will have storage for clip boards, cup holders, and radio mounting areas. Consoles can be finished with "splatter paint" or covered in formica.
● The front part of the console will be angled upward to allow better visibility and easier access to the switch panel. Each console is custom built for your truck, modifications can be made to fit your needs.
● A new LED illuminated switch panel with all new wiring and 25 amp switches will be installed into the console. The battery disconnect switch, code lights and digital volt/ammeter will also be added.